Our History
The Coral Gables Garden Club was organized in 1925, the same year as our city's incorporation. Coral Gables began as a planned community on the edges of the Florida frontier. George Merrick and his cadre of architects, artists and city planners created an urban environment lauded and studied to this day. Mr. Merrick's wife Eunice Peacock Merrick and his mother Althea Merrick were two of the founders of our club. Eunice was our second President. Althea was an artist, musician, lover of architecture and inspiration to her son George.

While George Merrick and his team were busy building The City Beautiful, our club's first 35 members were hatching civic projects, nurturing their gardens, talking horticulture, sharing cuttings and seeds and creating beautiful home spaces carved from the pinelands and oak canopies. Our first scrapbooks, archived by the University of Miami, and linked on this website, give us a glimpse of those earliest years and the club's focus on propagating plants, and learning what flora will flourish in the gardens of our unique subtropical environment. (Imagine a time when you couldn't run to your local nursery for a flat of plants!) Visiting experts spoke on the flora of China, Africa, and England, discussing rare flowers and vines, tropical fruit trees, native plants and more. No matter what climate and culture, gardeners always seem interested in growing roses. Our gardeners were instructed to plant in sand amended with native marl rock, to go easy on the fertilizer, and to "keep the rose plant constantly moist but never flooded."

Civic improvement was and is a Coral Gables Garden Club priority, and plant sales were our first fundraisers. Each member raised and donated plants for the sales. With these funds we landscaped Ponce de Leon Junior High School, the patio gardens of the newly built University of Miami, and Coral Gables Elementary School, where we also organized the first Junior Gardeners' Club.

Today we are a dynamic group of nearly 150 members. Many of us hold positions on city advisory boards, some of us have sought and filled elected positions. Our history is full of significant programs and projects – from the creation of new entrances into our city, to the bronze statues of George and Althea Merrick at City Hall and the Merrick House, to educational programs, scholarships and youth gardening. In 2018 the city dedicated the Betsy Adams and Coral Gables Garden Club park to us, in appreciation of our important impact on the City of Coral Gables.
Our Club Flower
Hibiscus rosa-sinensis
La France Hibiscus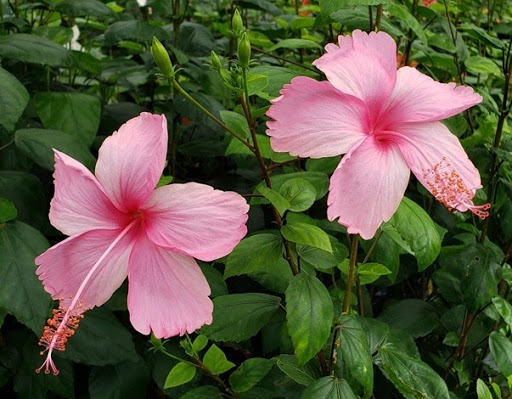 Our Club Tree
Bauhinia blakeana
Hong Kong Orchid Tree